Contrast Sensitivity Test
What is a Contrast sensitivity test
A contrast sensitivity test, checks for the ability to differentiate between light and dark (contrast). This ability, is as much an important sense as 20/20, allowing us to be able to carry out everyday tasks safely.
The Hamilton-Veale Contrast Sensitivity Test (photo below), is an effective means of monitoring potential decreases in contrast sensitivity function over time. Even though a person is provided with the best possible refraction (glasses, etc...) they may still complain of not seeing clearly. This problem is often related to a loss of contrast sensitivity.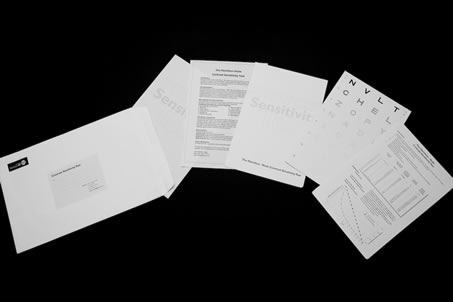 The Hamilton-Veale Contrast Sensitivity Chart - Complete Solution

A TEST FOR THE HIDDEN LOSS OF VISION
Eye specialists routinely test eyes for visual acuity, 20/20 or 6/6.
Seldom do they test for the other most important functions of vision; Fields and Contrast Sensitivity.
This easy to understand chart ,will test for a loss in Contrast Sensitivity. Loss of Contrast Sensitivity will indicate a serious loss of visual function, and this loss is usually a sign of eye disease.
Ophthalmic professional advice should be sought if a loss in contrast sensitivity is detected.
Remember that a 20/20 result, will not always uncover a possible hidden loss in contrast sensitivity.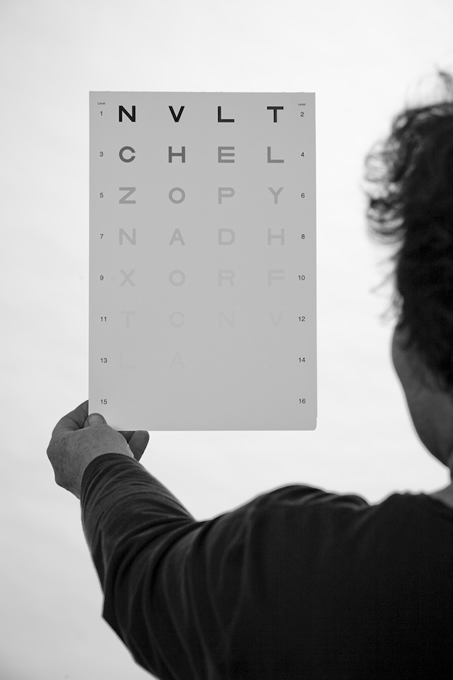 "TWILIGHT"
Henry Grunwald,was the long time editor in chief of "Time Magazine" and Time Inc. Publications,
"In 1992, my wife Louise, and I rented a villa outside Florence. The light in the house was inadequate, especially in the gloomy, rainy weather of that October; the twenty-five watt bulbs in the pseudo elegant sconces remind me of those notoriously under lit Russian hotel rooms. One afternoon, I picked up a carafe from a side table in a particularly dark corner to pour water into a glass. I missed the glass. I inveighed against the landlord, who, I thought, was trying to save electricity with those weak light bulbs, but I suspected that I might need new glasses.
Back in New York, quite unconcerned, I dropped in on the nearest optician. In a darkened cubicle, he took me through the usual eye test. I have worn glasses ever since I was a teenager. Using both eyes, I read the chart without difficulty, but when my right eye was covered and I looked only through the left, I saw virtually nothing. My right eye, on the other hand, was close to normal and, as I realised later, saw for both. The optician seemed embarrassed, and he took me through the test again. The result was the same. "I think you had better see an eye doctor," he said."

Henry had unbeknowingly, lost the vision in his left, probably non dominant eye, due to macular degeneration.
All the time, he had been losing his Contrast Sensitivity. That is one of the reasons he had trouble pouring the glass of water in poor light.
We recommend reading Henry Grunwald's book "Twilight; Losing Sight, Gaining Insight." Available from www.amazon.com

Example Case
Joshua Spence has Rod/Cone dystrophy. He was diagnosed with this problem aged 3 years. He is now 8 years of age and is managing very well at school but his parents were not able to understand what he could and could not see.
They had been to their eye specialist on many occasions and knew that he could only see 6/36 with both eyes. They could not understand why he could achieve so much with this low visual acuity measure, but struggled with any tasks in poor light.
He was tested on the Hamilton-Veale Contrast Sensitivity Chart. He only reached level 7 (see below) where as most children reach level 13 or 14.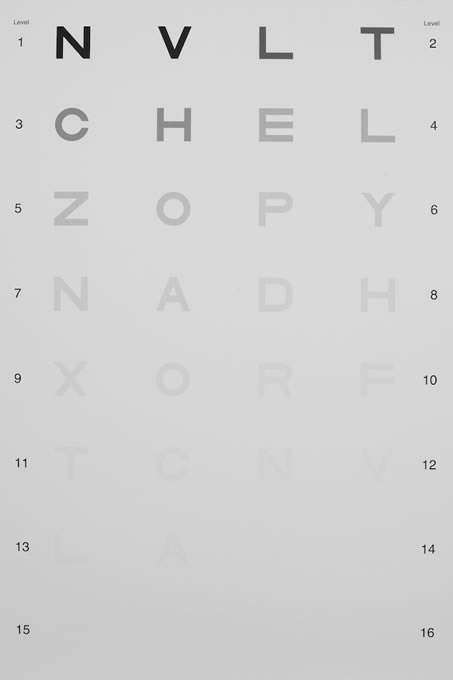 This demonstrated clearly to Joshua's parents the reason why he has difficulty in poorly lit conditions. As a result his parents now know to provide him with ample bright light to work in and to assist him when out and about in poor light or at night.
THE PELLI ROBSON CONTRAST SENSITIVITY CHART

This chart is the Gold Standard. It is large, expensive, difficult to find if you want to buy one, and as a result, not used often enough in the clinical or self testing setting.
The accuracy of the chart is determined primarily by two functions;

The accuracy of the calibration of the contrast on the chart
The intrinsic variability due to the problematic nature of the patients' responses.
(Arch. Ophthal . 41, 103-148, 1980.)
As with visual acuity testing, due to numerous variables, the gold standard chart also suffers from these difficulties. Ie;
- day of testing (personal variables)
- test distance
- test illumination,
- font/type size and spacing.
Because of these variables, (the size of the chart and its cost), we believe, are the reason, contrast sensitivity is not regularly tested.
Contrast sensitivity should always be tested in all eye examinations.
It should also be used to test oneself, to detect any visual loss over time.

MACULAR DEGENERATION
Macular degeneration is the most common form of visual disability in the Western World. Now labeled ARMD (Age Related Macular Degeneration), it is increasingly prevalent after the age of 65.
There are two major types;
1. Wet: Where the weak blood vessels propagate at the macular and leak
2. Dry : Where the retinal cells at the macular wither and die.
The initial consequence of ARMD is a loss of visual acuity and often a distortion of images. Use a Amsler's chart to detect swelling at the macular and resultant distortion on the chart.
A loss on contrast sensitivity function is also observed as more macular cells die. It is advised the Hamilton Veale Contrast Sensitivity Chart be used in conjunction with an Amslers chart,to detect visual function loss, in all cases with Macular Degeneration.
Amslers Chart

CATARACTS
When should my cataract be removed?
All of us will get cataracts if we live long enough.
They are simply a breakdown in the clarity of. the crystalline lens in the eye. This haze causes a loss in visual acuity 20/20 and usually, a loss of contrast sensitivity.
As a result, high contrast images (ie the Visual acuity chart 20/20) can be seen, but objects with low contrast are not seen. ie; in dark corners,during foggy conditions,looking through fogged up windows and windscreens,in dark conditions, and on hazy days.
Use the Hamilton-Veale Contrast Sensitivity Test to detect any loss.
If you record a loss in contrast sensitivity function, see your eye specialist straight away, as your safety may be at risk.
GLAUCOMA
Glaucoma is a severe eye disease, which is on the increase in the West and in Asia. It leads to a loss of the eye's nerve fibre layer, resulting in field loss and a loss in contrast sensitivity function.
All persons who are diagnosed with glaucoma should have a contrast sensitivity test. Each eye individually and binocularly.
Patients with glaucoma must be under the regular care of their Eye Doctor. Advice on increasing contrast should be given.
LOW VISION
Low vision is described as vision worse than 6/12 in the best eye.
We need 6/12 vision to drive a car or read newsprint. Those, who can not pass this test, are at a huge disadvantage ,and are labeled with low vision.
Most low vision clinics will measure a person's contrast sensitivity function. If it is low ,the Low Vision Practitioner, usually an optometrist or occupational therapist, will advise the use of more contrast and more illumination.
Greater contrast can be achieved by using task lighting.
- black objects on a white desk
- white tea cups and plates
- white lines on the edge of steps
(see illumination below)
Yellow lenses will often increase contrast. Fishermen's sunglasses will often cut down glare when outdoors and also increase contrast.
ILLUMINATION
If you have a low contrast sensitivity level (level 12- level 7) on the Hamilton- Veale Contrast Sensitivity Test you will need better illumination.
People with age related macular degeneration (ARMD) and glaucoma, often see better in bright light. Use moveable spotlights or lamps that can be directed onto the work area for tasks requiring close focus. Position the light so it is not shining into the eyes, but directly at the task at hand.
You may need different levels of light for different tasks. Reflector type bulbs are the best. It pays to experiment with different wattages.
Make the most of the light in your house. Skylights and high windows will increase natural light without glare. When redecorating, use light colours on walls and white on the ceiling. Keep small powerful torches around the house for seeing in cupboards and dark corners.
FALLS
The John Hopkins University School of Medicine studied why elderly people are likely to fall.
It was shown that a low contrast sensitivity level was significant even when there was good somatosensory feedback.
A low contrast sensitivity level contributes to a poor postural stability which leads to a 2x increase in the likelihood of falling.
Turano et al. Optom & Vision Science
Vol 71 Number 12 12/94 pg 761
Where as youngsters trip and recover, elderly trip and fall. The number of injuries sustained by falls increases with age. Along with a loss of contrast sensitivity and osteoporosis, failing muscle tone, poorer proprioceptive cues, falls in the elderly are much more common and have a devastating affect on an older persons quality of life.
Poor vision is implicated in falls, and a loss of contrast sensitivity function with age makes matters worse.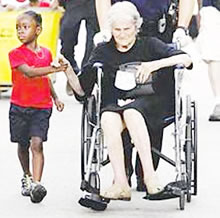 GLARE
Many of us suffer from the effects of glare in the form of; overhead lights, sun, reflections... etc. This is often caused by the light being scattered when it enters the eye due to cataracts.
Although this visual acuity (20/20) may be good. Whenever light from an indirect source enters the eye, ie; car headlights, bright overhead super market lights and glare reduces the ability to see clearly. This is called veiling glare.
You can test for veiling glare using the Hamilton Veale Contrast Sensitivity Test. Test each eye yourself under normal conditions and measure the contrast sensitivity level. Then, shine a torch into the eyes from a high angle and measure the level again. If there is a moderate cataract or other from of eye opacity present, the contrast sensitivity level will be greatly reduced. If this is the case your eye care specialist should be consulted immediately.
CHILDREN'S VISION
Children who have low vision are seldom tested for visual fields or contrast sensitivity. Despite the fact that a good contrast sensitivity level and a wide field of vision are more important for functioning vision than visual acuity.
(Aitken S., Buultjens M. J. Vis. Imp. Blind 1991 85 107-173)
We therefore recommend testing children, with low vision, who can recognise letters, with the Hamilton-Veale Contrast Sensitivity Test.
DRIVING AND CONTRAST SENSITIVITY
We have all experienced the difficulty of seeing through a fogged up windscreen. Some eye conditions emulate this effect, and result in a loss of contrast sensitivity.
If there is significant loss in the contrast sensitivity level, when road conditions are poor. Ie; rain, fog, smoke, mist or darkness, seeing the road will be very difficult.
Drivers with a significant loss of contrast sensitivity should be advised not to drive at night or in poor conditions for their own safety and the safety of others.